8 Amazing Activities on Western's Campus!
8 Amazing Activities on Western's Campus!
Want to know what the students of Western University are up too during the year?  Western University has one of the most beautiful campuses in Canada and is home to some of the most eventful Western Mustang activities. Check out these amazing activities and food spots on campus during your stay at the Conference this Summer to see how it feels to be a Western Mustang!
Bagels at the Spoke



The Spoke is one of the most popular restaurants and cafes on campus. Situated within the University Community Centre (UCC), the Spoke offers the infamous 'Spoke Bagels' which melt in your mouth every single time. One cannot go wrong while choosing a bagel since they have many different options spanning from the 'cheddar herb bagel' with 'herb and garlic cream cheese' or the 'BLT' on a 'jalapeno cheddar bagel'. The students love picking one up early in the morning before class or for their lunch time break. They even made personality types with your favourite bagel. Read more about it here on the Western Gazette:

https://westerngazette.ca/culture/western-personalities-as-spoke-bagels/article_7c7cfd04-2590-11e9-9a16-c35d0aaf824e.html



Don't forget to stop at the Spoke to grab your personalized bagel during the conference!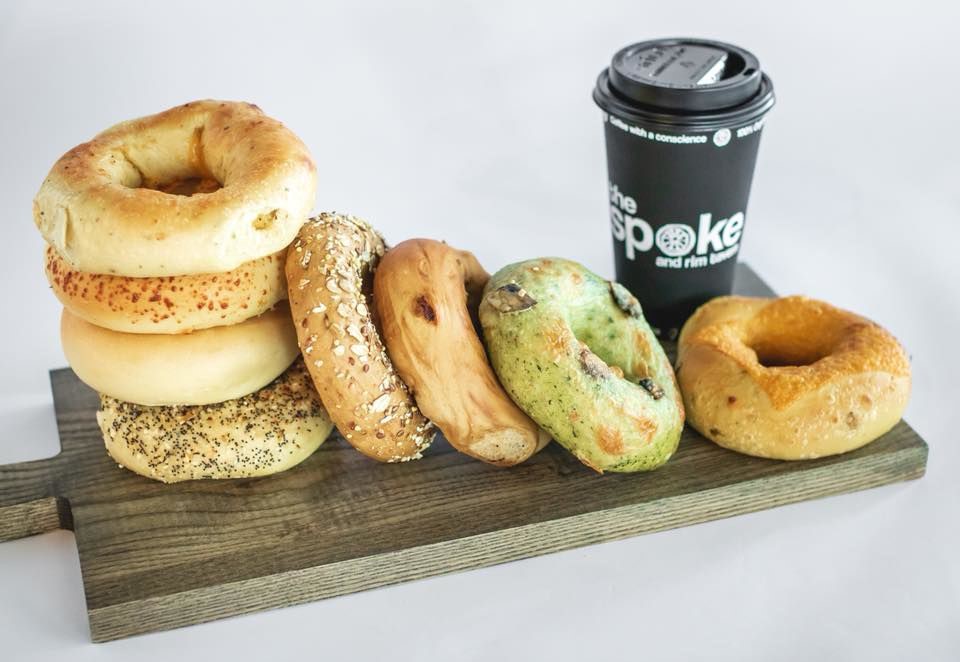 Rick McGhie Every Wednesday Night at the Spoke

Continuing with the Spoke theme, every Wednesday night the Spoke transforms into a massive sing-along with the famous Rick McGhie who performs many popular songs on his guitar. Rick McGhie has been performing for Western at the Spoke for almost 30 years and is a tradition for every student to go at least once in their University career. Catch him performing at the 2019 International ACAC Conference on Wednesday night at the main conference tent at Western University College hill!
The Grad Club

If you need a spot to relax, hangout or study the Grad Club located on campus within the Middlesex building is a unique and fun spot to do so! It is the most popular spot for Sandwich Specials, the Cheeseburger and Buffet Lunches which includes International foods.
UC Hill Walk

University College is one of the most iconic and photographed buildings on Western's Campus. The hill that follows up to the building is accessible from Main Gates on Richmond street, and is particularly picturesque during sunset while standing on the bridge over the Thames river looking up to it. UC Hill is also the best spot for Orientation week (O-Week) events such as concerts and performances for incoming freshman students.


Western Film Theatre

The Western Film club is run by the University Student Council which is a publicly operated full size movie theater located on campus at the University Community College. For a reasonably priced movie theatre ticket, students can enjoy up-to-date movies on the full screen right on campus!

Check out the Facebook page for more information! https://www.facebook.com/WesternFilmUWO/
Thames River path

The Thames River travels within Western University's campus and is 346 km long. The University Drive bridge crosses over the Thames Rivers and is one of the best sights to observe Western's beautiful campus. The path that is beside the river is perfect for a walk, run, or bike ride to experience the integrated nature on campus!
191 Clubs
Western has a wide variety of clubs and associations to belong to. Whether you want to join over 9,500 other students in one of 180 different clubs on campus, or if you're staff or faculty at Western, there is a way for everyone to feel connected. There are athletic clubs such as tennis, Equestrian and Karate. There are also University Student Council organized clubs such as African Students Association, Cancer Awareness Society and Fashion and Lifestyle Society.
Recreation Centre

Campus Recreation offers students a wide range of programs and activities geared to all levels and abilities.This $35 million state-of-the-art facility was made possible by the largest student donation in history at a Canadian university. It is a 20,000 square-foot fitness centre with more than 200 cardio machines with an 8 lane 50-metre pool, squash/racquetball courts and 5 gymnasiums. There is also group fitness classes and drop-in gym activities. With more than 1,200 different teams and 15,000 participating students, Western has one of the largest intramural sports programs in Canada.
Share this post: