School Profiles - Nuances, Benefits, and Fresh Ideas!
School Profiles - Nuances, Benefits, and Fresh Ideas!
For many of us who have experience managing and creating our school's profile, it's well understood that the purpose of it is to provide insights and knowledge of our school and our students. And rightly so - the school profile is used by university admission officers to understand the context of every senior class and to evaluate students within their educational environment. 
Each portion of the school profile is important, but there are elements most schools would consider the be "fundamental," -- the school's name, contact information, history, demographic breakdown, curriculum, and university matriculation list. However, when it comes to displaying this information as well as using the school profile for advocacy purposes, we see great diversity. 
Figure 1 - Excerpt from YISS Profile
At the Yongsan International School of Seoul and Western Academy of Beijing, hard copies of the school profile get distributed to their elementary and middle school offices for currently enrolled parents whose children will ultimately enter high school.  In fact, the school profile is most frequently consumed by their admissions office for the purposes of recruitment and enrollment.  They come handy at job fairs as well for prospective faculty members. 
In preparing your own high school profile, thinking of your target audience is one way to begin preparing this document. The high school profile is a great way for an admission officer to quickly get a lay of the land at a particular high school, and this is particularly true for high schools they are not familiar with or those they are receiving an application from for the first time. 
There are outstanding profiles that are extensive, four page documents, as well as short, succinct ones that cover everything in two pages. The goal isn't to provide every detail of your high school, but rather the key points that will be most effective in educating the admission officer and selection committee about your school.
Important aspects
We surveyed several university representatives to find out what are the most important aspects of the school profile. As expected, their answers are varied, but the theme of what they look for, as well as what they need, are similar:
Explanation about the high school curriculum and how students can navigate it
The school's CEEB code
Contact information of the counseling team
Guidance on how to interpret academic standing and where an applicant falls in the graduating class (ie: GPA distribution)
Average test scores
Percentage of students attending university
School policies, for example, if a school doesn't weight grades, if students can only apply to a certain number of universities, a limit on AP/IB  courses that students may take each year.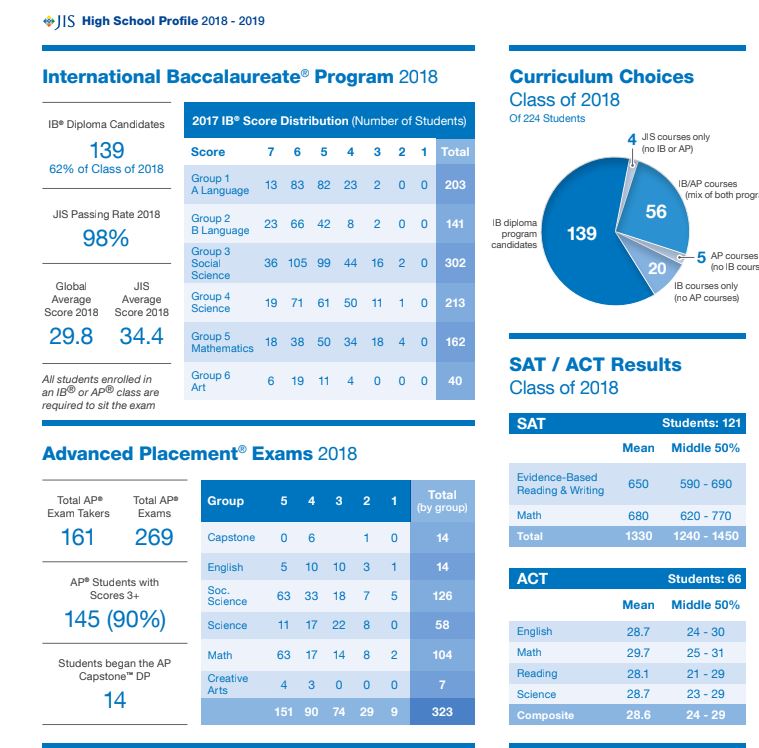 Figure 2 - Excerpt from JIS Profile
In September 2018, NACAC's Code of Ethics and Professional Practices went into effect.  Many high school counselors have needed to update their school profiles this year to ensure they are abiding by the CEPP requirements that say the following:
Data reported on the school profile must be "accurate and current"
There must be transparency about when school profile data was gathered and if any student groups were included or excluded from the school profile data
There must be information in the school profile or the transcript about:
○     their grading scale
○     their grade distribution
○     policies on weighting courses and on repeating courses
○     whether grades from all courses attempted are reported on transcripts and included in any cumulative GPA calculation
That school policy for reporting disciplinary infractions is disclosed
Advocacy
While letters of recommendations are fantastic opportunities to advocate for your students on an individual basis, your school profile can help emphasize circumstances that you believe an admissions officer should consider when evaluating your students.
For example, in September 2017, International ACAC's Executive Board moved to create an ad-hoc committee to review standardized testing and its specific impact on international students. The committee found evidence of the following consequences of standardized testing:
Limited or no capacity in test centers in a country of residence, thus requiring the students to travel internationally to sit a test. This creates financial barriers and stressful testing experiences
In the case of computer based testing, students who have qualified for extra-time test format have received the standard test format with no timely recourse to the correct hard copies, as these must be posted internationally
Cancelled and delayed test-scores due to test security issues
Unexpected elimination of previously long-standing test dates that have interrupted Grade 12 students' two year testing plans
Country-wide test security issues that call into question the validity of reading applications in the context of regional testing averages
Due to these and additional concerns, International ACAC's Ad-Hoc Committee on Standardized Testing recommends that schools add a section to their profiles that raises awareness of the disadvantages that international school students face in the standardized testing process.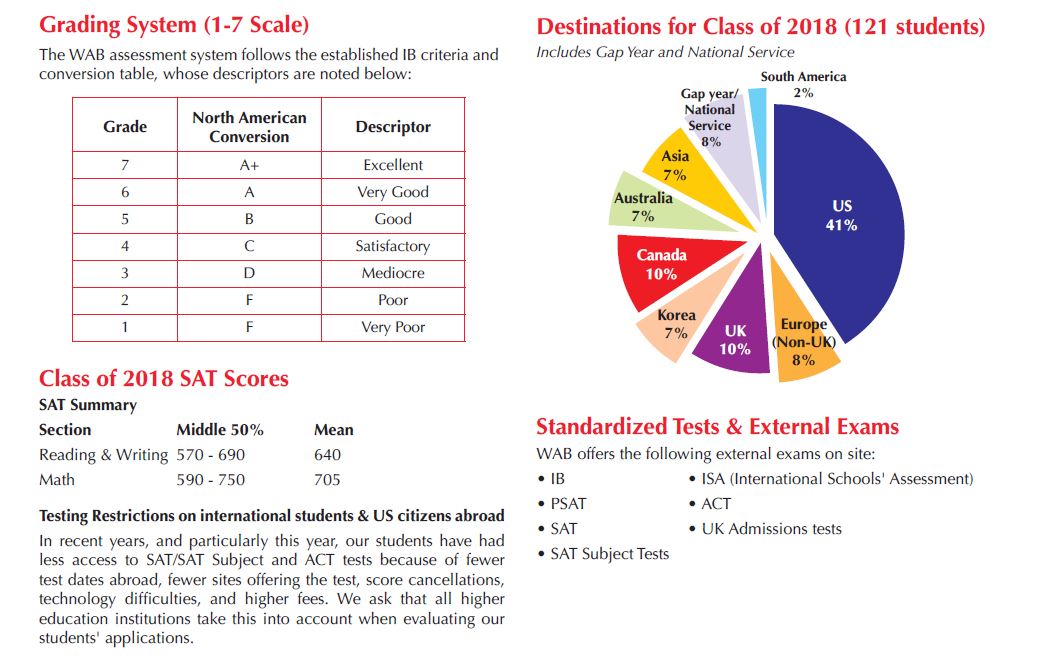 Figure 3 Excerpt from WAB Profile 


One such example comes from Jakarta Intercultural School's school profile:
JIS students have faced challenges accessing the SAT, SAT Subject, and ACT tests over the past year. We ask that universities take this into account when evaluating students' applications.
If you have not done so already, we ask that you consider advocating for your students by expressing similar concerns on next year's school profile. 
Closing thoughts
Whether your school profile is in its infant stages or is seasoned with age, it remains to be a critical component for advocacy, outreach, and understanding.  However, it is also a valuable resource that should be continually reviewed and refined with every new school year. 
In support of continuous improvement of school profiles worldwide, NACAC has collected over 1,200 member secondary school profiles. This online resource is intended to help counselors create or improve their school profiles.  If you would like to have your school profile included in this project, please email Lindsay Addington ([email protected]). 
Moving forward, a group of NACAC member-leaders will review school profiles to identify best practices, which will be released as an additional resource in 2019.
Writers & School Profile Samples:
Share this post: