FIVE THINGS TO DO IN VANCOUVER
Top Five Things To Do in Vancouver While in Town for The Fair
NACAC's first International Universities Fair is being held in Vancouver May 7 and the city is ready to welcome visitors from institutions all over the world. The fair, Saturday May 7 from 1:00 - 4:00PM has over a 150 universities from a dozen different countries converging on Vancouver Convention Center to promote higher education options to the region's secondary school students. Recognizing that many university representatives will only have a few spare hours before or after the fair, International ACAC has received special advice from a local Vancouverite to come up with the ever helpful Top Five Things.

TOP FIVE THINGS TO DO IN VANCOUVER BEFORE OR AFTER THE NACAC FAIR
1. Take a Water Taxi Ride to See the City
If you only do one thing in the city, a great way to experience Vancouver is to take a short water taxi ride in 'False Creek'. It's the body of water that surrounds Downtown to the south, and a water taxi offers a quick and inexpensive way to really view the city from the water. Few cities in the world match the view of mountains and oceans, and the glass towers of Downtown. You can take the water taxi from Yaletown, English Bay, or any number of spots, and use it to get to Granville Island which is another great tourist attraction.
2. Bike or Run/Walk around Stanley Park
Vancouver has one of the largest urban parks in North America, Stanley Park is about 10% larger than New York's Central park. And while you could spend hours walking the trails, or visiting the Vancouver Aquarium or exploring the collection of Totem Poles, if you only have a few hours, renting a bicycle and cycling around the park on its 10KM/6 Mile is one of the best ways to spend a morning in the city. Be sure to keep your eye open for Salish Rock, and the Girl in a Wetsuit. Then stop at English Bay beach for a much deserved ice cream cone.
3. Eat, Drink, People Watch on a Patio
The rainy months in Vancouver only make the spring and summer months in the city that much more enjoyable. On a sunny day, the city's patios are the most popular places to be, day or night. Some of the best include: Cactus Club & Boathhouse in English Bay, Carderos or Lift in Coal Harbour, Joe Forte's on Robson, or Mahoney & Sons in False Creek.
4. Do the Grind – Grouse Grind
The Grouse Grind is "Mother Nature's Stairmaster". It is a difficult, but rewarding, trail that scales the city's north shore mountain range, rising nearly 1000 metres/3200 feet elevation in 3KM/2Miles. Each day, hundreds of people hike the safe and well marked trail in their runners and shorts to reach the top and the best view in the city. The top of Grouse Mountain is a great attraction in the city, that boasts not only incredible views, but a full restaurant and bar. For those not interested in a trail hike, there is a gondola ride from the bottom, that all take to get back down.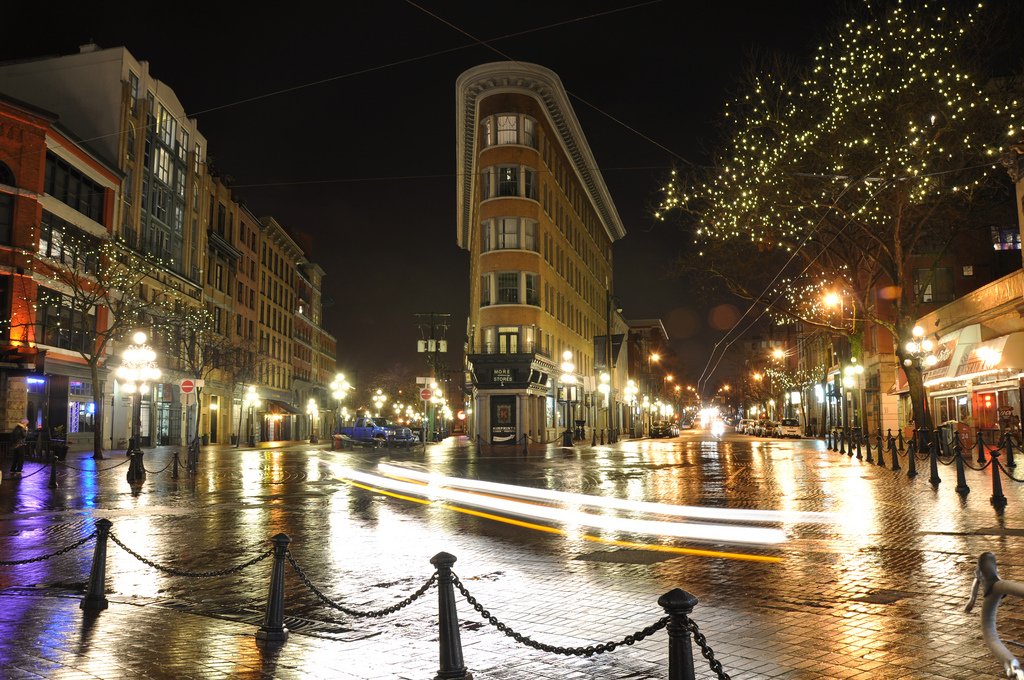 5. Shop Like A Local
Vancouver has all the big name stores, and many can be found along Robson Street in downtown, the classic shopping strip in the heart of the city. But if you are searching for a special experience the Gastown Neighbourhood offers many wonderful and unique stores. Located, in the north end of downtown, it offers a mix of kitschy Canadian stores, but also really cool boutique stores along Cordova and Water Streets. If fresh markets are your thing, then the always popular Granville Island Market is a must see on many visitors list. The "island" located under the Granville Street Bridge leading to Downtown, is also home to dozens of artisan shops and galleries. Best thing about shopping in Vancouver for international visitors - - Canadian dollar at time of writing is still low, which means you basically get a 20% discount on everything !
BONUS – Visit a College Campus!
University of British Columbia, is located just a 30 minute bus ride west of downtown. Located on a forested peninsula, the campus is a tourist attraction in its own right. Home to the Museum of Anthropology, Japanese Nitobe Gardens, and Beaty Biodiversity of museum, there is plenty to do and see on the campus that stretches over 900 acres. Emily Carr University of Art & Design has its central campus located on Granville Island, and Simon Fraser University is about an hour east of the city.
Enjoy your time in Vancouver !
Share this post: