College & Counselor Fairs
Frequently Asked Questions
The College and Counselor Fairs give conference attendees the opportunity to talk to their colleagues 'on the other side of the desk'. The College Fair is exactly what you'd expect; the colleges and universities stand behind their tables while the counselors move around the room. The Counselor Fair is the opposite; it is the high school counselors at the tables! What's unique about these events is that they are specifically for our members attending the conference - there will be no students at either fair! All conference attendees are invited to participate, so expect anywhere from 500-700 attendees for each fair.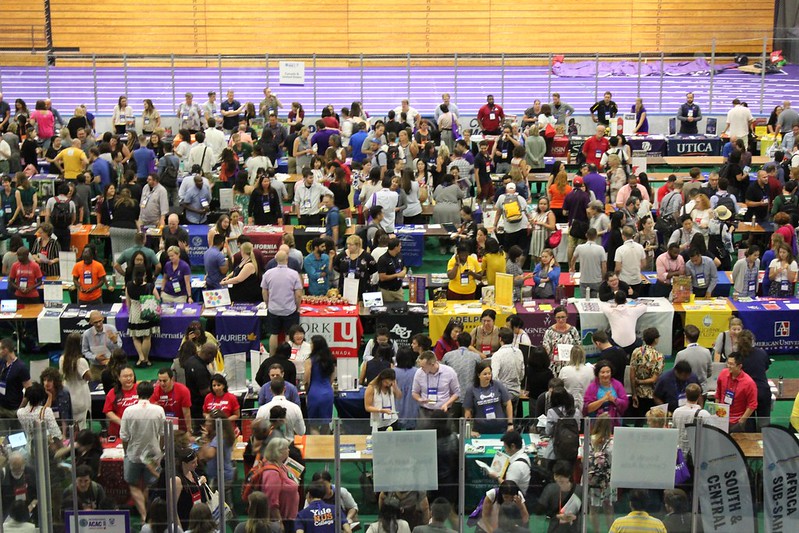 Key Information
Please note that Fair Participants will be sharing tables with other institutions. 

The International ACAC Counselor Fair will be held on Wednesday, July 12th from 4:15 - 6:15 PM. All high school members, Independent Education Consultants, and Community Based Organizations will be provided with a table.
The International ACAC College Fair for Canadian and non-U.S. universities will be held on Thursday, July 13 from 10:30 AM - 12:30 PM. All university members from outside of the United States will be provided with a table.
The International ACAC College Fair for U.S. universities will be held on Thursday, July 13 from 3:00 - 5:00 PM. All university members located within the United States will be provided with a table.

Shipping Details:

FIU Facilities Warehouse


IACAC, c/o Lindsay Dudley




11555 SW 17th Street, CSC 1110




Miami, Florida 33199




Contact: Jorge Orga




305-348-4608




[email protected]

FIU has extremely limited capacity to receive and store packages. Packages may be sent in advance, but must arrive no earlier than June 27 and no later than July 7. Packages must adhere to the following size restrictions: 12 x 12 x 17 inches or 30 x 30 x 43 centimeters. Any packages that exceed these dimensions will not be accepted and will not be available for you at the fairs.
Top Tips 
What should I bring (and not bring) to the fair? 
Bring:

Business cards - lots of them! 

Bring:

A few high school profiles or university brochures to display on your table.

Bring:

A school calendar and agenda - colleges may want to book visits.

Bring:

Table banner representing your school/institution

Don't brin

g:

 banners, books, big brochures, and anything bulky or heavy - conference attendees like to pack light. 
Helpful Hint: Some schools bring a little "swag" to display on their tables (for example: chocolates from Belgium or dates from Dubai). Feel free to bring something fun or unique from your high school or university, but know this is not required! Please do not bring alcoholic beverages for distribution at the fairs.
Helpful Hint: Bring a smaller banner as you will be sharing the table with a colleague from another institution. Smaller table banners are so much less weight, too!
Do's & Don'ts for the Fairs 
Do

wear your nametag - it must be worn to be admitted to the fair.

Don't

forget to wear comfortable shoes - you will be walking and standing a lot.  

Do

be mindful of space constraints when packing your supplies -


less is definitely more! 

Do

 bring a jacket or sweater that can be put on or removed, if needed.The temperature inside the venue may be too warm or too chilly for your comfort.

Do

arrive 10-15 minutes early to allow yourself time to locate and set up your table.
 How do I network effectively at the fair?
Come to the fairs with a list of high schools or universities you want to find. It can be a bit overwhelming at first, so having a targeted list can help! You will receive a map of institutions grouped by region to help you navigate.

Do not be afraid to talk to people! This is a friendly and casual conference, full of collegial and interesting people. 

Questions that counselors can ask university representatives:

What are the popular majors at your university?

What kind of financial aid and scholarships are available to students from the attendees country.

What are the housing options for students, and how do you help match students?

What kind of career services and internships does your university offer to students?

What support services are available for students.

Does your institution provide any distinctive or niche academic programs that may not be well-known?

Can you tell me about the alumni network at the institution and how it can support students after they graduate?

What kind of partnerships or collaborations does the university have with local businesses or organizations?

Are there any opportunities for students to work directly with faculty or participate in research projects outside of the classroom?

What is the general profile of a student who is accepted and flourishes at your uni?

Questions that university representatives might want to ask high school representatives:

What nationalities does your student population consist of? Primarily from the country the school is based in, or do you have populations of students from other countries?

If you support international students, are they boarding at your school or staying with host families?

In what countries/regions do many of your students apply and enroll? 

What type of curriculum do you offer (IB, AP, Cambridge, BTEC, etc)?

Does your school offer specialty programs, such as an arts academy, STEM magnet, support group for students with learning differences?

Does your school organize opportunities for internships/work experience/volunteer work?

What are the top 3 preferences for your students when picking a university?