International ACAC and its namesake, OACAC, is celebrating 25 years!
Check out the Timeline of highlights of OACAC and International ACAC.
Read about the 2/5 Grants awarded to members to hold local celebrations.
---
Our History
Over the past 25 years, we have experienced exciting growth in our membership, have hosted unparalleled annual summer conferences, and provided networking and professional development resources for thousands of educators in our field. 
The Overseas Association for College Admission Counseling was founded in 1992 when a group consisting of primarily European counselors approached NACAC about the creation of an affiliate regional organization that would represent their needs. Over the years OACAC has continued to grow, becoming incorporated as a not-for-profit organization in 2001. In 2016, the organization rebranded itself as the International Association for College Admission Counseling. To see our full history, please visit the History of International ACAC page.
---
Our Timeline
Click on the timeline to learn more!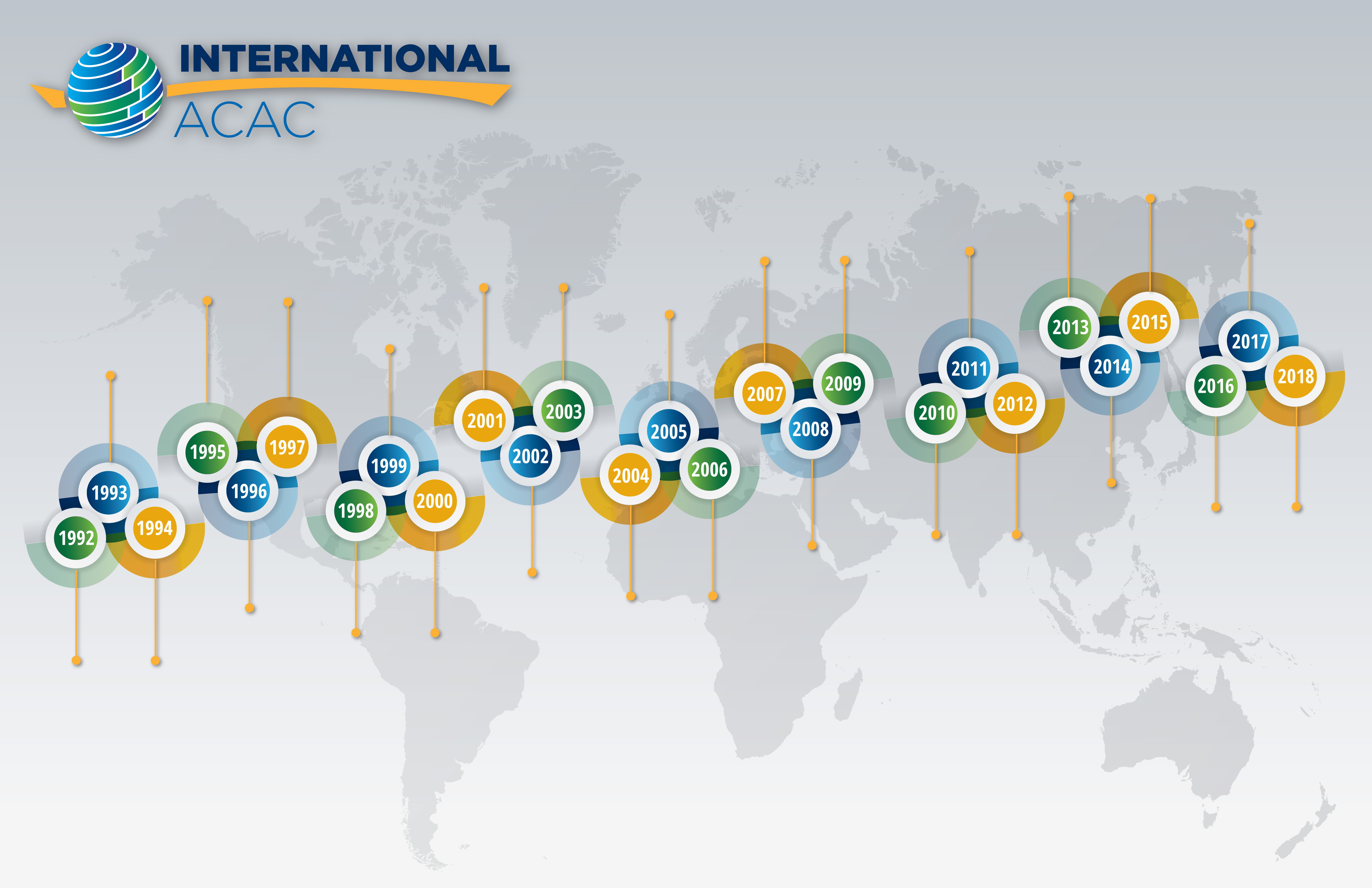 ---
2/5 Grants: February 5, 2018  
Twenty International ACAC members from around the globe were awarded grants to celebrate locally our organization's 25th birthday during the month of February.  Below are recaps of the events.
Africa, Sub-Saharan
   Hilarion Vegba, CEG2 Dassa-Zoum, Benin 
   John Storer, Waterford Kamhlaba UWC of Southern Africa, Swaziland
   Mabadjam Katawa, Edulcod-Togo, Togo
Canada & U.S.
   Cory Miller, Branksome Hall; ON, Canada
   Craig Brown, Shawnigan Lake School; BC, Canada
   Ffiona Rees, University of California, Los Angeles; CA, USA
   Ian Wright, World Education Services; NY, USA
   Juan-Camilo Tamayo, JCT4Education; FL, USA
Caribbean, Central America & Mexico
   Kevin Randolph, Colegio Americano de Guatemala, Guatemala
East Asia
   Barbara Chen, The University of Tulsa, China
   Sonali Hutchison, Dulwich College Shanghai, China
   Victoria Lidzbarski, Canadian Academy, Japan
Europe
   Kara Madden, Madden Educational Consulting, Spain
South America
   Ray Marx, Colegio Americano de Quito, Ecuador
South & Central Asia
   Ankur Vohra, Ashoka University, India
   Bridget Herrera, American International School Dhaka, Bangladesh 
Southeast Asia & Oceania
   Amanda Poel, Harrow International School, Thailand
   Johanna Fishbein, UWC South East Asia, Dover Campus, Singapore
   Michelle Burlock, Jakarta Intercultural School, Indonesia
OACAC of Years Past



First Websites