2018 Association Annual Award Winners: In Their Words
Association Annual Award Winners: In Their Words
Last Spring the International ACAC board placed their votes for three awards that honor leaders in our field. These include the Distinguished Service Award, the Rising Star Award, and the Peter Hauet Lifetime Achievement Award. This year the awards went to some inspiring individuals who have made big contributions to International ACAC over the years.
Jenny Tassell and Christine Grover were selected for the International ACAC Rising Star Award for their service to their students and our community, especially due to their tireless work in organizing the recent International ACAC Regional Institute in Panama City.

Jenny writes, "Thank you from the bottom of my heart for this great honor. There is really no other association like International ACAC. I have been lucky enough to have some amazing mentors who have encouraged me to keep pushing myself towards goals that have seemed too challenging at times. Fred Johnson, Juan Camilo Tamayo, Ray Marx, Meg Mahoney, Christine Grover, and Jolynn Vallejo to name a few. Everyone in this association wants its members to become more involved and they will encourage you every step of the way.
In Panama it all started with helping to create the Panama School Counselor Association (PASCA). With the amazing counselors in Panama we worked hard to help Panama become a place that was easy to navigate and welcoming to all university reps that came here. We created the PASCA website which has become a model for other countries.
In these past few years, we organized the biggest university fair in the history of Panama with also the largest student turnout, co-chaired/organized the International ACAC Latin American Regional Institute, became a member in the Advocacy and Outreach Committee for the last two years, presented at the CIS Conference in Scotland, and also presented 3 different sessions at the International ACAC summer conferences. The International ACAC and its members have become a second family for me and if all of this can be done in three years, I can't imagine what the next three will bring. Thanks again!"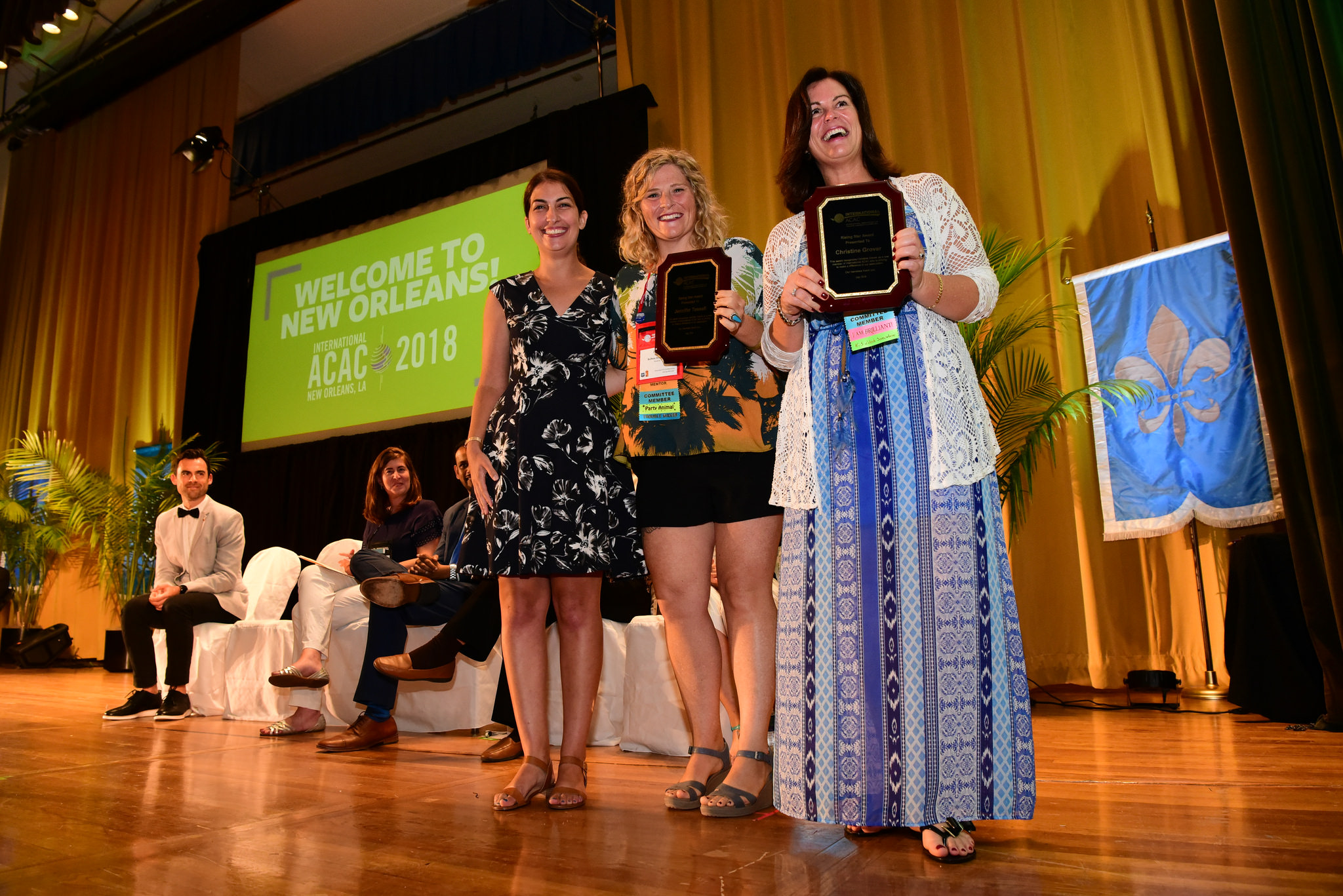 Christine added, "International ACAC is an organization like no other and I will be eternally grateful for all of the support, lasting friendships, and education they continue to provide. While I have been working in education for longer than I like to admit, I stumbled into my dream job as a College Counselor at the Metropolitan School of Panama only four short years ago. While attending a workshop for new college counselors, I kept hearing about the organization and knew then that I wanted to become a member, having no idea that attending their annual conferences would soon feel like coming home. Last March, I was honored to be a co-chair of the Latin America Regional Institute and found myself surrounded with the most professional, knowledgeable, caring, and fun people who made the event a great success. Working amongst these inspirational people, I knew I wanted to be more involved in the organization, to pay forward some of the magic that was shared with me. I am excited to announce that I just presented my first session at the Summer Institute and I am now a member of the Membership Committee. I was simply brought to tears by receiving the Rising Star Award from people I respect so much, thank you."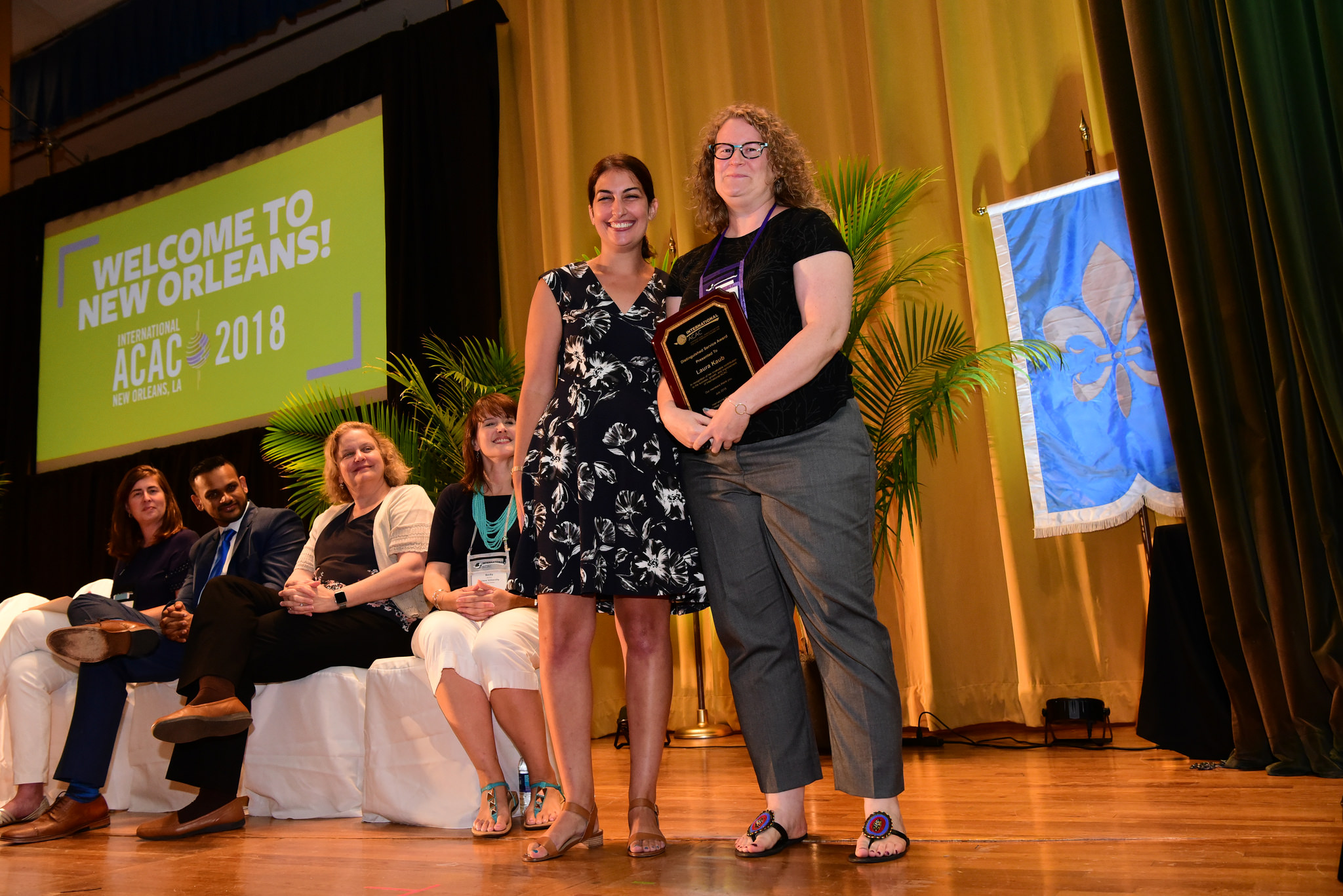 This year's Distinguished Service Award goes to Laura Kaub of Yale's Young African Scholar Program.
Laura writes, "What a wonderful surprise and honor it was to receive the Int'l ACAC Distinguished Service Award in New Orleans this year! (And many people asked me about this afterward, so I want to confirm: I had no warning whatsoever!) Words really cannot convey the pride I feel to join the company of past recipients such as Joan Liu, Rosa Moreno, and Bridget Herrera.
I'm not sure whether I am paraphrasing someone famous or just quoting a wise friend, but I recall hearing somewhere that 'true success is recognition from one's peers'. This idea really resonates with me now. Listening to so many kind words written by my colleagues—especially when spoken by my long-time friend and colleague Johanna Fishbein—is a moment I'll always treasure. Truly, it is a gift to discover that people whose work I respect so deeply place value on my efforts in return.
I count myself very lucky to be a member of the Int'l ACAC community. When I joined the organization almost a decade ago, I had no idea what an extraordinary group of colleagues and friends I would become a part of. Looking back, I see that in this community I found my 'tribe'. Among other things, professionally, and in many ways personally, I found mentors and role models who have helped me become a better educator, to be sure, but also a better person. To paraphrase another famous someone or other, I know that I have reached this place and that I enjoy this view only because I am standing on the shoulders of giants. So, it's a genuine pleasure to give back to the organization whenever I can. To know that a few of you have found my shoulders worthy of standing on makes me very happy, indeed. Thank you, once again, Int'l ACAC!"
Last but certainly not least, International ACAC Past-President Ray Marx received the Peter Hauet Lifetime Achievement Award. Ray writes, "Receiving the Peter Hauet Lifetime Achievement Award was a humbling experience. It is an honor to be recognized by peers, but it also serves as a reminder about all the amazing work being done on a daily basis by so many of our members. To be part of an international organization of this caliber is what is truly special to me.
Reflecting back, OACAC, now International ACAC, has been the backbone for my professional growth. My first conference was at Brown University and I had yet to spend a single day as a college counselor when I attended. It was a small and intimate gathering where everyone seemed to know the names of their colleagues' pets, and despite the fact that I barely knew what the acronym OACAC stood for, it was obvious that people were there to support each other and of course international students. Seasoned veterans, aka the "old guard", and leaders in the organization took me under their wings and unselfishly volunteered their time and advice during those initial 2 days, and thereafter, to help me become a more knowledgeable professional.
Since that first conference, OACAC/Intl ACAC has seen exponential growth.
Watching the evolution of this organization has been one of the most rewarding pieces for me over the past twenty years. I give a lot of credit to the International ACAC leadership and how they have managed and handled growth, adversity, and most important, fellowship. The remarkable vision towards the future is still balanced by the warmth of our members and when you attend the summer conference you witness this firsthand, from the volunteers to the sessions to the networking and dialogue - every element speaks to the progress we continue to make as an organization.
In New Orleans we listened to and witnessed members who advocated for more access and inclusion, on many levels, and it was encouraging to hear about the steps being taken to address this as we move forward together.
This is what it means to be part of our member driven organization: to listen to the people who literally span the globe and who have ideas to make our organization the best it can be, and then act on these ideas.
International ACAC is an exceptional organization with dedicated leaders and members who continue to strive for excellence in everything we do. International ACAC is more than just an organization for me: it is a place where I have made great friends, where I continue to be educated and it is a place that continues to serve as the inspiration for my professional life."
Share this post: