AWARD WINNERS: IN THEIR WORDS
Association Annual Award Winners : In Their Words.
Last Spring the International ACAC board placed their votes for three awards that honor leaders in our field. These include the Distinguished Service Award, the Rising Star Award, and the Peter Hauet Lifetime Achievement Award. This year the awards went to some inspiring individuals who have made big contributions to International ACAC over the years.
Ed Tourle from the Pestalozzi International Village Trust in the United Kingdom was selected for the International ACAC Rising Star Award. He said, "I have been a college admissions counsellor for three years now, having previously worked as a Primary school teacher. I represent 40 international students from nine countries. I was privileged to receive the International ACAC Scholarship to attend the University of Oregon conference in 2015. Life has been a roller coaster since then. In terms of my own professional development as a college admissions counsellor, opportunities to up level my team and the delivery of support to my students, IACAC has been the gift that keeps on giving. I have met and worked with the most inspirational, kind and encouraging people in my professional career. I have discovered a role that fulfils me and drives me forward in ways I never expected. Following that first, transformative conference, I joined the Admissions Practice Committee for IACAC, gave presentations at regional institutes and was also invited to join the wonderful HALI Access Network, again with a committee role.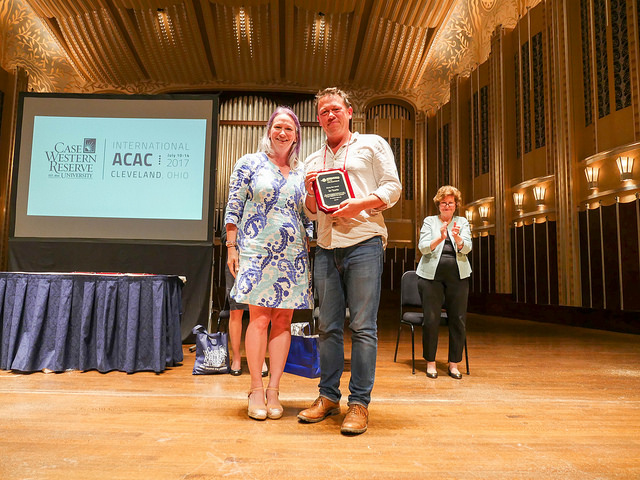 The technical refinement of school profiles and our advocacy as an office were enabled through excellent mentorship and advice from truly experienced colleagues. For me, above anything it is the people I am honoured to work with that means the most. To receive the Rising Star Award was entirely unexpected and to receive it alongside Joan Liu (Distinguished Service Recipient 2017) was just another level. She is the chief architect of my success and I cannot praise her universal commitment enough. Our organisation is vulnerable and the award creates a wave of momentum that IACAC has equipped me to deal with in a practical and productive way. Giving me the tools necessary and the profile to transform lives in vulnerable communities. It does not get better than that. Thank you IACAC for this enormous privilege that I will honour to the very best of my ability." Congratulations, Ed!


This year's Distinguished Service Award goes to former International ACAC VP of Inclusion, Access and Success, Joan Liu. "I was honored and humbled to receive the Distinguished Service Award. To be alongside Marie Vivas, who created the first scholarship when she was president, and Ed Tourle, who was part of Scholar Cohort 2015, means a lot to me.
One thing that makes International ACAC so special is that everything - the conference, institutes, webinars, mentorship, and initiatives - are run by member volunteers. The International ACAC Scholar Program came to fruition through the behind-the-scenes work of an extraordinary IAS committee, the support of the board, and our membership (thank you for donating, for running the 5K, for your nominations!). I am honored to be part of a collective effort to reach out to educators, schools, and countries that do not usually have access to professional development, training, and important resources for students.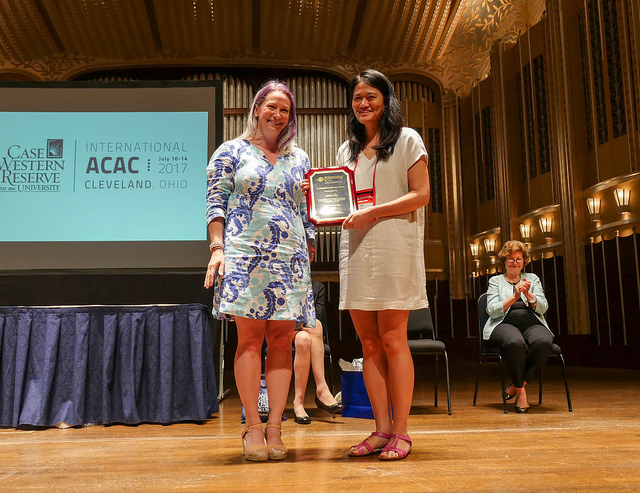 I am in awe of the Scholars and the critical work they do in helping students access international higher education and financial aid. Personally and professionally, I have witnessed how education changes the trajectory of lives, families, and whole communities. Education is the greatest tool we have to bring the world together and all of us are part of this endeavor.
International ACAC has an important role to play in supporting high achieving, low income students around the world, by reaching those who work most closely with them. My wish advice for you is this: Do not underestimate what you can do and learn as a volunteer. I have learned as much in this service role as I have in my full-time work. Dare to be a volunteer. Always do more, not less. You have the power to make a difference for colleagues, students, and communities around the world."


Finally, this year's Peter Hauet Lifetime Achievement Award goes to longtime member and past president, Marie Vivas.
"I am truly honored to receive the Peter Hauet Lifetime Achievement Award. International ACAC has been my home, my community, since the very first OACAC Conference where about a dozen of us sat at a conference table in a room at George Washington University. This organization has shaped my career. Riding on the bus tours, presenting sessions at the conference, serving on the board, representing us at NACAC, becoming an elder to my younger colleagues - these experiences have been the essential building blocks of a fulfilling career.
The people with whom I have served through the years have challenged me to become a better, more thoughtful person. They care deeply about their students and about the ethics of their profession, and they have inspired me.
Peter has been a mentor from day one. He recruited me to the board in those early years. He offered advice and practical suggestions. He made us laugh on the bus tours. He has always stood up for our students and conducted himself with the highest degree of professionalism and grace. Looking back on my friendship with him, it is fair to say that I wanted to be Peter Hauet when I grew up! This award makes me feel that I succeeded.
We are going through some difficult times on this planet. Our work is just beginning. Our passion for helping our students means that we need to keep going. We need to nurture each other and we need to encourage the next generation of colleagues.
Now is the time to get involved - volunteer, serve, run for office, vote. This association is worth it. You are worth it."
Share this post: