INTERNATIONAL ACAC Scholars 2016
By Joan Liu
University Advisor, United World College of South East Asia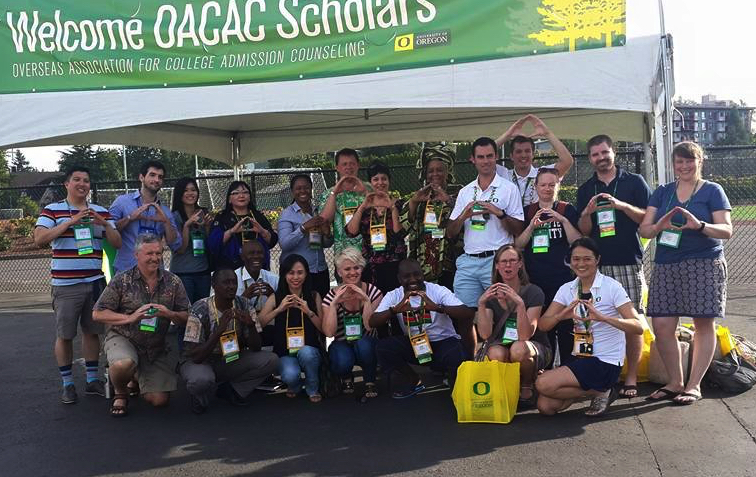 International ACAC actively promotes access to higher education for high-achieving, low-income students around the world by supporting those who work directly with them. Through the International ACAC Scholar Program, high-impact but under-resourced counselors and leaders are given an opportunity to gain much-needed professional development to support these talented students.
Scholarship recipients are funded to attend the International College Counseling 101 Institute, the annual conference, as well as a bus tour. Scholars are then paired with a mentor for a year beyond the conference. This four-part program allows Scholars to bring new knowledge, best practices, and a larger network to their students, communities, and regions.
This year's Scholar Cohort is an outstanding group of counselors who are committed to making a difference in the lives of their students, countries, and regions. Congratulations to the following counselors who were selected as this year's scholarship recipients:
Aggie Gogo Wizi, Klesis Educational Initiative,

Malawi

Bela Gligorova, Nova International Schools,

Macedonia

Kubi Witten-Hannah, Mt Albert Grammar School,

New Zealand

Leonard Brito, Nyanga High,

Zimbabwe

Maria Fernanda Luna, Colegio la Floresta,

El Salvador

Michaelina Quaye, Presbyterian Boys School,

Ghana

Purev-Ochir Banzar, Hobby School,

Mongolia

Rolands Bleks, Riga State Gymnasium 2,

Latvia

Samantha Moktan Lama, GEMS Institute of Higher Education,

Nepal

Ummi Kalsum Haji Omar, Sekolah Menengah Sayyidina Ali,

Brunei
Selection for the scholarship is based on the leadership, demonstrated commitment, and potential impact of a counselor within a school and his/her local community; the academic talent and financial need of students within a student body; the resources available to a counselor and a school within their community; as well as the needs of various countries and regions.
A special thank you to the nominators of the 2016 Scholar Cohort:
Rebecca Zeigler Mano at Education Matters, Greer Bevel at International School of Latvia, Misa Kabashima at Harvey Mudd College, Elisabeth O'Connell at University of Pennsylvania, Mayra T. Robles at EducationUSA Brunei, Romelia Widders at Michigan State University, Selena Malla at USEF-Nepal, Nancy Keteku and Bernice Affotey at EducationUSA Ghana, Katie Sleeman at EducationUSA New Zealand, and Faith Chitawo at EducationUSA Malawi.
The International ACAC Scholarship Program would not be possible without the funding and support of our membership. If you ran the 5K last year, donated an item to last year's Silent Auction, bought a raffle ticket or one of our wildly popular country buttons - you played a role in bringing this Scholar Cohort to Rutgers!


We would also like to give a special thank you to the following institutions and organizations who donated to the Scholar Fund this year:
AirConcepts USA, California Lutheran University, Columbia University, Creighton University, Dartmouth College, Edvice Limited, Elite Scholars of China (ESC), Fairfield University, Fordham University, InitialView, Loyola Marymount University, Loyola University Chicago, Marist College, Marquette University, MIT, NACAC Imagine Grant, International ACAC Executive Board, Princeton University, Quinnipiac University, Saint Louis University, St. Peter's University, Study New York, University of British Columbia, Top Scholars, University of Pennsylvania, University of San Francisco, Whitworth University, Worcester Polytechnic Institute, Wren and Fida, Xavier University, and Yale University
Without this individual membership and institutional support, we could not touch the lives of counselors, students, and communities in so many critical areas of the world. We look forward to welcoming the 2016 Scholar Cohort to Rutgers this summer.
Share this post: