Members Submitted : Top Packing Tips


By Samantha Deleon
The University of Illinois at Chicago


You've scheduled your visits, registered for fairs, confirmed your bookings for hotels and flights, and now it'stime to actually pack.
How do you pack for a 10-day trip to India or a 7-week trip around the world? It will be autumn in Japan, sticky in Singapore, dusty in Dubai, and raining in Europe. I polled the OACAC Group on Facebook and the top things to include while packing include:
Reliable Luggage (I just purchased my first lifetime warranty luggage with advice from some of my seasoned recruiter colleagues. Does Briggs & Riley sound familiar?)
International Data Plan (Check to see that your phone is actually covered in the countries you visit. I came back to find out that 7 minutes using data to message a driver in Brunei can cost $300.)
External Battery Charger
Business Cards
Visa
Noise Cancelling Headphones
Versatile Outfits and Comfortable Shoes (This can basically be a whole blog for me, but I'll let the Capsule Wardrobe speak for itself below.)
Cash (I use clear snack bags to separate my currencies.)
Convertor/Travel Adapter
Table Cover
Thanks for your participation, and I do have some other helpful tips: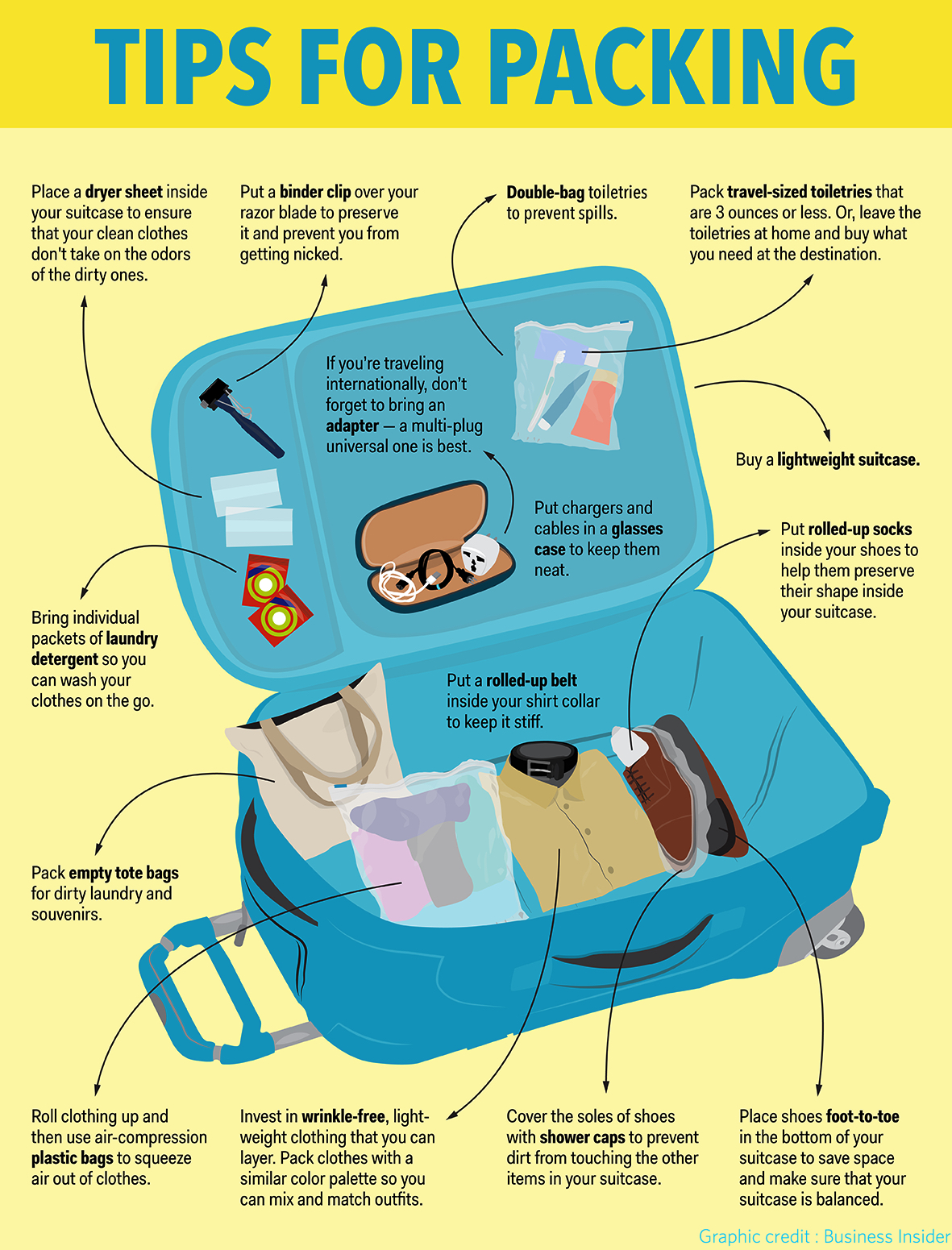 Check the weather; check the weather when you pack and the day before you pack if you're a pack-rastinator.
Use packing cubes. They organize your luggage and your life.
If you forget your adapter, that's the number one thing left behind at hotels so ask for one at the front desk.
Phone Apps that have been lifesavers: Google Maps, TripIt, FlightTrack, XE Currency Exchange, Messaging apps - WhatsApp, Viber
Credit cards with travel notifications. The worst thing is waiting to check-out to catch a flight and having your credit card denied due to suspicious activity. Because it's not suspicious at all when you check-in a hotel in Rio De Janeiro on Sunday, Tokyo on Wednesday, and Delhi on Saturday.
Use a Capsule Wardrobe. Men, you really have it easy. Plus you already have a capsule wardrobe without even knowing: slacks, university polo, blazer and button down shirts. Ladies do you wear the pencil skirt, leggings, business trousers, university polo, dress, blazer? So many options, but it comes down to streamlining your clothing and selecting a color scheme. Travelfashiongirl.com - Business Trip Packing List for Minimalist Fashionistas might be helpful for those of you who struggle with bringing your whole closet in your reliable luggage.
Make a plan to pack. Often its packing last minute is when you end up adding too many unnecessary items. Avoid last-minute packing by scheduling time the day before you leave or hours before your departure. Best approach is in the days leading up to your trip make a list of items you'll actually wear - think about each day and what combinations of clothes would work best. Even consider trying items on to see how they match with each other - fashion show! Then write it all down (on your phone for future reference!). On your trip, cross off things that don't work, or you don't end up wearing.

Quickly :
> Dryer sheets in your luggage, helps everything stay extra fresh smelling;
> Pack a tupperware container (roll socks, shirts inside) and use them for extra food at the breakfast buffet for quick snacks throughout the day,
> Use the hotel's TV USB input to charge your phone
> Make every inch of your luggage count. Fill up shoes, pockets, gaps with stuffables like socks, underwear, rolled up ties, etc.
What travel and packing tips have we missed? What will get you through this season? Please share in the comments!
Share this post: