International ACAC is excited to invite all Conference participants to enjoy College and Counselor Fairs, both in-person and virtually! Conference registration is required to participate in the fairs. Aside from the conference registration fee, there is no additional cost to participate.
---
In-Person Fairs
This year, we are splitting our College Fair into two categories: the first for universities outside of the United States, and the second for ALL colleges and universities. A third Counselor Fair will be held for high school counselors, Independent Educational Consultants, and Community Based Organizations. Conference attendees are allowed to attend each of these fairs at no extra cost.
Please note that Fair Participants will be sharing tables with other institutions. 
In-Person Fairs Schedule
| | | |
| --- | --- | --- |
| Tuesday, July 12 | 2:30 - 4:00 PM | Global Higher Education Fair #1 (Universities outside of the U.S.) |
| Wednesday, July 13 | 8:30 - 10:00 AM | Counselor Fair |
| Thursday, July 14 | 3:00 - 4:30 PM | University and College Fair #2 (ALL universities and colleges) |
---
We promise that this event isn't another series of webinars, and instead will be a space to socialize and network with colleagues and friends via a virtual platform. At the College Fair, high school counselors will be able to "sit down" with university reps who will be eager to connect with old friends, make new contacts, provide updates on admissions policies, and set up meetings post-conference, as needed. The reverse will happen at the Counselor Fair! Leveraging the platform during the fairs, there will be no presentations and text chat, but rather actual face-to-face interactions between universities and secondary school counselors around virtual tables. While it may not be an opportunity to collect goodies in-person, we hope you will be excited to "see" your colleagues from around the world this summer!
Virtual Fairs Schedule
Click on each time slot to see the list of participants at that time! 
---
Photos from our last in-person fair: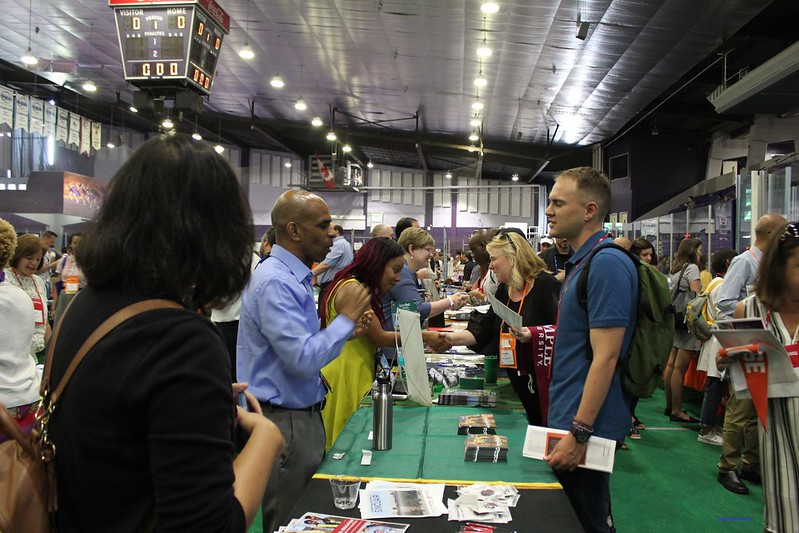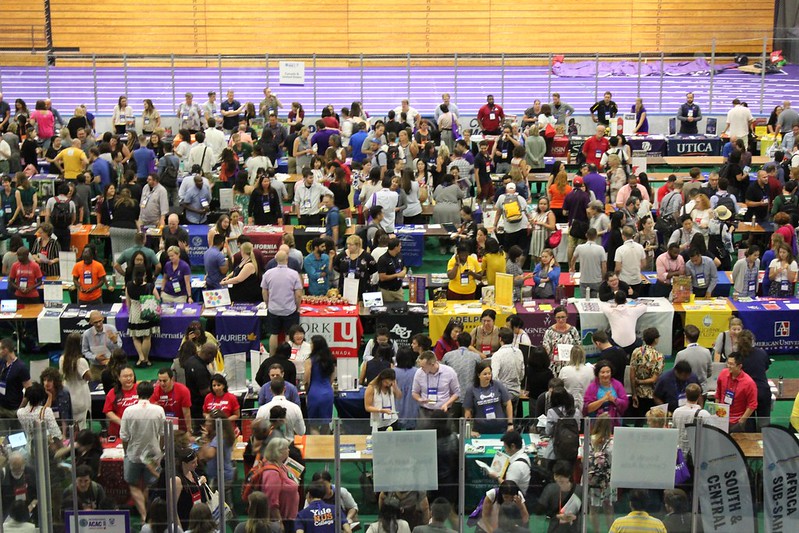 ---
Fair Testimonials
The fair is a great opportunity to learn more about all the fantastic opportunities available for International students. It also allows time for university representatives to find out more about our school and students. And plus, it is a time when we can say hello to friends and colleagues who we may not have seen throughout the conference.
- Shruti Tewari, UWCSEA, Singapore

What other place can one go to learn about countless universities worldwide, meet and catch up with old friends, and be greeted with new smiling faces? All this in two hours!
- John Liu, UWCSEA, Singapore

The International ACAC is an invaluable organization to be part of. As a university
counsellor, it has been incredibly rewarding to connect with colleagues around the world to discuss the pertinent issues that our students are facing. The conference they organize is a great space for us to exchange ideas. With the professional sessions, innovative chatters that matter, and evening activities, they ensure that all participants leaving the conference are inspired and ready to kick start the new academic year with great momentum.
- Carrie Ngo, Lycée Français de Toronto

Networking is an important aspect of these conferences as well as learning from each other which is aided by the many wonderful interactive sessions. The university and school fair allows for more targeted communication and information sharing. This is certainly time well spent during the summer.
- Linva McIntosh, Yew Wah International Education School of Shanghai


Why I love the college fairs at IACAC: First and foremost, it will always be the chance to meet each other face to face and build relationships, which our community is dependent upon. It's a great opportunity to reconnect (warning - if it was in person, I may be a massive hugger now after months of not seeing you all) and share some focused time getting up to speed on new developments, initiatives or to book a visit to my school. As IB results have normally just been released, it can also be a very timely catch-up/follow-up for a student. The access we have to ask targeted questions or find out about an institution that is new to us on our 'own agenda' is hugely beneficial.

Secondly, the spectacle of all the stalls is often awe-inspiring, or daunting depending on your viewpoint. If you like a takeaway, finding quirky items from a Dutch bike keyring to a glitzy LMU bag can brighten up your office! That said, as we are all now virtual, the camaraderie and humour is much needed on a zoom or team chat and these fairs offer that in abundance as we all move forward and support each other.
- Zoe Williams, Tanglin Trust School, Singapore


I have thoroughly enjoyed the International ACAC University fairs. I especially like the "reverse fairs" where College Counselors get an opportunity to share information about their schools and programs. Whether it's reconnecting or making new connections, I always walk away with gems I can share with my students and families.
- Sammy Jamal, Vientiane International School, Vientiane, Laos
---
Check out our Fairs FAQ! 
Questions? Please contact [email protected].